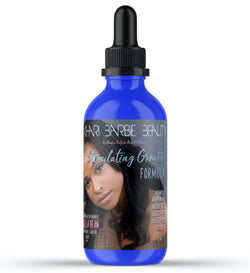 Khari Barbie Hair: Stimulating Growth Formula
Please note: This product is made by hand with imported oils to ensure the highest quality and care. Organic, no parabens,  no sulfates, gluten-free, cruelty-free, and vegan, Khari Barbie Hair Oil is the answer to all your hair care prayers. This one of a kind patented formula:
Promotes hair growth.
Fights and Prevents hair loss
Prevents the appearance of white or gray hair.
Fights against dandruff.
Strengthens the hair follicles.
Prevents the appearance of split ends.
Repairs damaged hair.
Protects the hair against the scalp infections.
Brings sparkle and shine to the hair.
Regenerates and rehydrates dry hair
Softens thick or frizzy hair.
Can be used to treat certain types of baldness
Helps to prevent lice
Made with castor oil, Pumpkin seed oil, Jamaican black castor oil, argan oil, rosemary oil, pomegranate oil, peppermint oil, alma oil, lavender oil, tea tree oil, and our special proprietary oil blend... we cut no corners with this formula. This oil addresses every (non-medical) hair related need. Let's regrow our edges, thicken our hair, grow out our perms, retain our curl patterns, and gain inches. With regular use, you will heal your hair from the root to the tip and restore the youthfulness of your hair before the damage. Make sure to look at our dispensers and droppers for easy application. NOTE this product is on a FIRST COME FIRST SERVE BASIS. We offer same-day or next-day shipping, however, due to HIGH DEMAND please allow up to 2 weeks for delivery.
Don't forget to add droppers to your cart! Droppers are sold separately and are available for the 2 and 4 ounce bottles only.
WE THINK YOU'LL LOVE THESE TOO