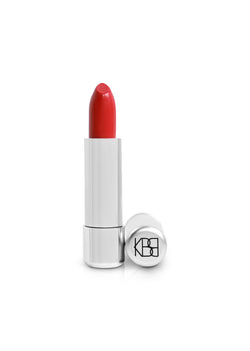 Bikini Barbie Matte Lipstick
The perfect reddish pink for the perfect beach babe. Sun-kissed tan and perfect beach waves, she frolics barefoot through the sand with her surfboard under her arm and her hot babe friends skipping behind. It's a slow motion, seductive trot reminiscent of Bay Watch circa the Pamela Anderson era. Surfs up!
How it looks on everyone
Bikini Barbie on Stacie, fair-toned skin, slender lips
Bikini Barbie on Joty, yellow-toned skin, medium, shapely lips
Bikini Barbie on Masika, olive-toned skin, full lips
Bikini Barbie on Rikki, brown-toned skin, full lips Please note that all matte lipsticks are free of parabens, and enhancing chemicals. Color applies lightly. For rich, full coverage make a few passes.
WE THINK YOU'LL LOVE THESE TOO