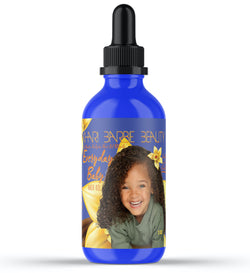 Khari Barbie Hair : Everyday Baby
Please note: This product is made by hand with imported oils to ensure the highest quality and care.
Organic, no parabens,  no sulfates, gluten-free, cruelty-free, and vegan, Khari Barbie Hair Oil is the answer to all your baby hair care prayers. It's mild enough for your little one, but powerful enough to transform his or her little tresses. Made with olive oil, coconut oil, shea butter, avocado oil, castor oil, jojoba oil, peppermint oil, grape seed oil, and more, this formula is nourishing, moisturizing, conditioning and healing while promoting healthy hair growth and minimizing breakage. Make sure to look at our dispensers and droppers for easy application.
Droppers are sold separately and are available for the 2 and 4 ounce bottles only.
WE THINK YOU'LL LOVE THESE TOO